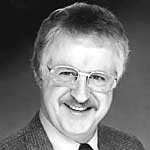 Johnny Varro
From "Sweet & Hot Music Festival" Program, April 30-September 2, 2002, p. 5
Swing It, Johnny
By Charles Champlin
Arts Editor Emeritus of the L. A. Times
One of the stellar attractions at this year's Sweet & Hot festivities will once again be Johnny Varro. He is, as the saying goes, a perennial favorite at the Sweet & Hot. On the national and international scale, Johnny is one of the most admired piano players of his generation. His sure and swinging rhythmic sense, his virtuoso command of the instrument and his sheer gift for making wonderful music make him that rare talent: a man with a distinctive sound that needs no one to tell you who's playing. Like the memorable pianists of the past, from Jelly Roll Morton to Thelonious Monk, you don't have to ask who's at the keyboard; your ears tell you.
At the S & H, Johnny will do some solo turns, sit in with a number of the so-called ad hoc groups of sidemen (always the swinging core of the festival) and appearing with his Swing Seven. The Swing Seven for which Johnny writes all the arrangements and of course is one seventh of the ensemble, has in its brief existence won a wide and growing following. Johnny's charts are both inspired by and extend the small group and intricate voices pioneered by the John Kirby group of the Thirties and Forties.
The Seven recently released its third CD on the Arbors label. The group was also booked on a mid-summer cruise to the Balkans, of all places.
Johnny, a New Yorker by birth, was on the verge of a musical career, although still in his teens, when he was drafted and sent off to the Korean war, serving in the Signal Corps. But he had a unique asset to keep his name and talent in the musical world. His father was a counterman at Cromwell's Drug Store in the RCA building, favored by musicians who ate at least one meal a day in daylight. When the likes of Bobby Hackett, the great cornet player, showed up for a late breakfast Johnny's father would occasionally slip a third fried egg on the plate and give the latest information on how Johnny was doing and when he would be out of the army. Many of the breakfasters had heard Johnny in one of his club appearances before he went in service and no one doubted his talent and his promise.
It was Hackett who gave Varro his first big break, making him the pianist in a tour with Hackett's quartet. I was nervous as hell because I hadn't played for two years," Johnny says. "It was an invaluable learning experience." Hackett was a master of chords and his delicate solos were magical and creative arpeggios, displays of virtuoso chord work. Johnny could read and he knew his chords. "But Bobby gave me a better understanding of chords and how they work. It was amazing to me how many horn players didn't know chords at all. They played it all by ear. They were wonderful but it was still a limitation. Bobby would even call out chords to me while we were playing a tune."
After the Hackett tour Johnny joined Phil Napoleon and his group for a long run. He next found his way to Eddie Condon's and became Condon's house band pianist. The company was illustrious including: Peewee Russell on clarinet, Lou McGarrity on trombone, Edmond Hall on clarinet and others naturally including Condon himself on banjo. Unfortunately Johnny joined the Condon group just too late for the classic recording sessions that are Condon's jazz legacy. But the time with Condon was another learning experience and the group included such splendid side men as Peanuts Hucko on clarinet.
There seems no jazz format that Johnny does not adore. He is a sparkling soloist as those who have heard his appearances at earlier festivals know well and he is frequently asked for Fats Waller's wonderfully melodic "Jitterbug Waltz." But Johnny has also shown in two-piano experiences, trios, quartets in just about any number you can name. He is unique among solo pianists in that he is also a superb ensemble player with a special gift for integrating ad hoc groups into fine and cohesive groups.
"The secret," Johnny says "is the listen. You listen hard to the other players and decide how best to complement them."
Johnny's playing is easy to detect within any group. He has a distinctive style, the mark of all first rate pianists. But he insists that his is an eclectic style born of all the masters he has listened to and loved. But while the sharp-eared listener can detect brief echoes of Ralph Sutton and others, the final meld is distinctly Johnny's. I first heard Johnny playing at a long-gone club called Gatsby's in West Los Angeles. He developed a large following, including me. Yet the music scene in Los Angeles two dozen years ago was uncomfortably thin and Johnny, his vocalist wife, Micki, and their daughter moved to Florida where he is kept comfortably busy nationally, internationally and on cruises. His appearance at the Sweet & Hot is thus to some extent a homecoming and, if only for a weekend, he arrives not a moment too soon.