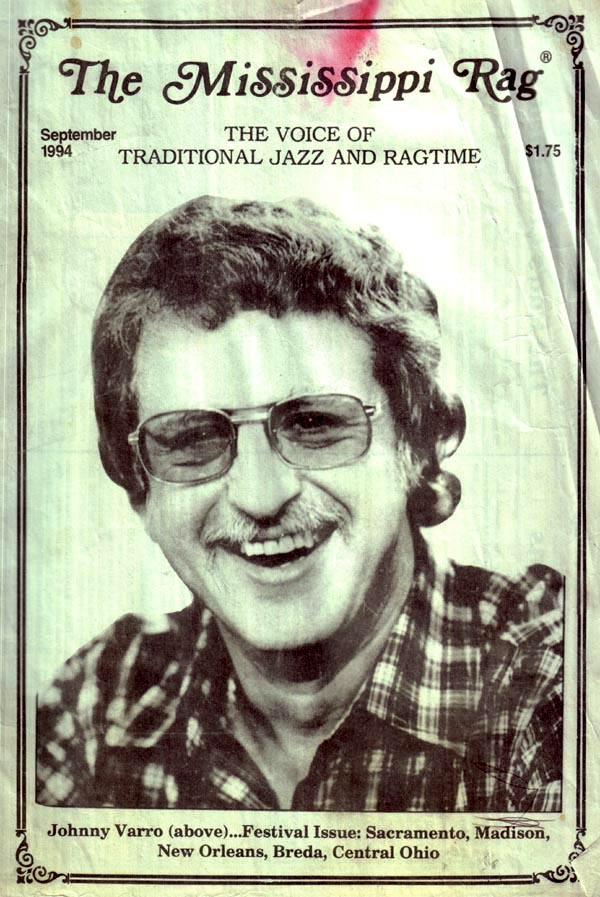 Johnny Varro, Cover, The Mississippi Rag, September 1994
The September 1994 issue of The Mississippi Rag contained an 8-page cover article on Johnny Varro by Warren Vaché, Sr.. The first seven paragraphs appear here by permssion of the publisher. A copy of the entire issue is available from The Mississippi Rag.
A Visit With Johnny Varro
Johnny Varro, one of the finest in the current crop of Jazz pianists, has waited a long time for the recognition and appreciation that are his due. His career began when he was still in his teens when - as an exceptionally talented youngster - he was able to hold his own sitting in with the likes of Bobby Hackett and other big guns who made up the star studded groups playing at Manhattan's Central Plaza and Stuyvesant Casino in the late '40s. He went on to work Nick's in the Village, toured with Bobby Hackett and Pee Wee Erwin and, in general has been around on the jazz scene ever since - except for a period with the Army in Korea - but only now is he getting the exposure on records and in concerts that he merits.
Unlike the jazz musicians of a slightly older generation, Johnny, born January 11, 1930, was too late to take part in the era of the big bands. He started playing jazz in small groups and has managed to build a career and an excellent reputation based on that experience.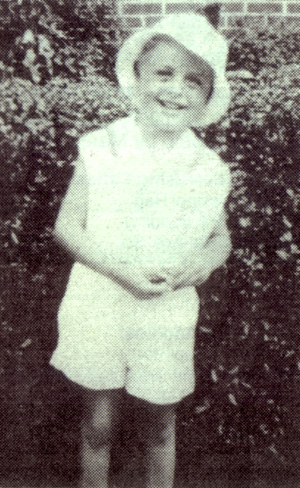 Johnny Varro, age 4, before he left Brooklyn.
A Brooklyn boy, he paints a vivid picture of growing up in the Bensonhurst section in just a few words: "Until I was ten, I wasn't aware of too much music going around. I was busy competing with the rest of the kids in the neighborhood."
This began to change when his mother, who played "a little piano," gave him a couple of lessons and then, reasoning that since they owned a piano they might as well use it, she insisted he take lessons from a lady down the street who was a retired concert pianist and taught classical piano.
Varro recalls, "She was a marvelous teacher. And lessons cost a dollar a week. A dollar every Sunday morning when I took my lesson, and this went on for several years.
"It came very easy. I remember that in the beginning I kept going ahead of the lesson. I'd finish the lesson and then go on to the next couple of pages. I was anxious to get moving - to know more about the piano. This all went on for three or four years - long before my interest in jazz.
"Then one day my dad came home with a pair of Commodore records. One featured a trio - Jess Stacy, Bud Freeman, and George Wettling - playing 'Exactly Like You' and 'The Blue Room' and the other Eddie Condon's band with Joe Bushkin on piano doing `Ballin' The Jack' and 'Ain't Gonna Give Nobody None of My Jelly-Roll.' I heard these, and I realized that this was something different from anything I had heard before - and I couldn't get too much of it.
* * * * *